We want Landrum's Homestead & Village to be a very educational experience for your students. Our goal is to increase a sense of wonder and intensify the appreciation for one's heritage. Your class will travel back to the late 1800's through exhibits depicting life and daily activities of our ancestors. The homestead covers over 30 acres and has over 85 buildings, displays, and exhibits that are interesting, educational, and fun for all ages.


Groups enjoy a variety of fun educational activities and live demonstrations, which include:
✓1863 Log House & Corn Crib
✓ Barn & Farm Animals
✓ Blacksmith Shop
✓ Restored Houses
✓ Village Chapel
✓ One Room School House
✓ Demonstrations
✓ Antique Farm & Tool Equipment
✓ Barber Shop
✓ Petrified Logs
✓ Watermill Gristmill
✓ Restored Steam Engine
✓ Picnic Pavilions
✓ Maze
✓ Smokehouse (lunch available for groups of 30+)
✓ Mystery House
✓ Play Area (basketball, horseshoes, tether ball, etc.)
✓ Old West Laser Shooting Gallery
✓ Gem Mining
✓Antique School Wagon Rides
✓ General Store & Homestead Shoppe
✓ MS Black Bear Exhibit
✓ Trading Post
✓ Forestry Education Center
✓ Fire Tower
DEMONSTRATIONS
✓ Cook biscuits on wood stove (samples given with fresh butter)
✓ Gristmill (grinding corn)
✓ Steam Engine and whistle
✓ Blacksmith Shop
✓ School Wagon Rides through nature trails
Interested in planning a Group or Field Trip to Landrum's? Awesome. Simply click below to request more information.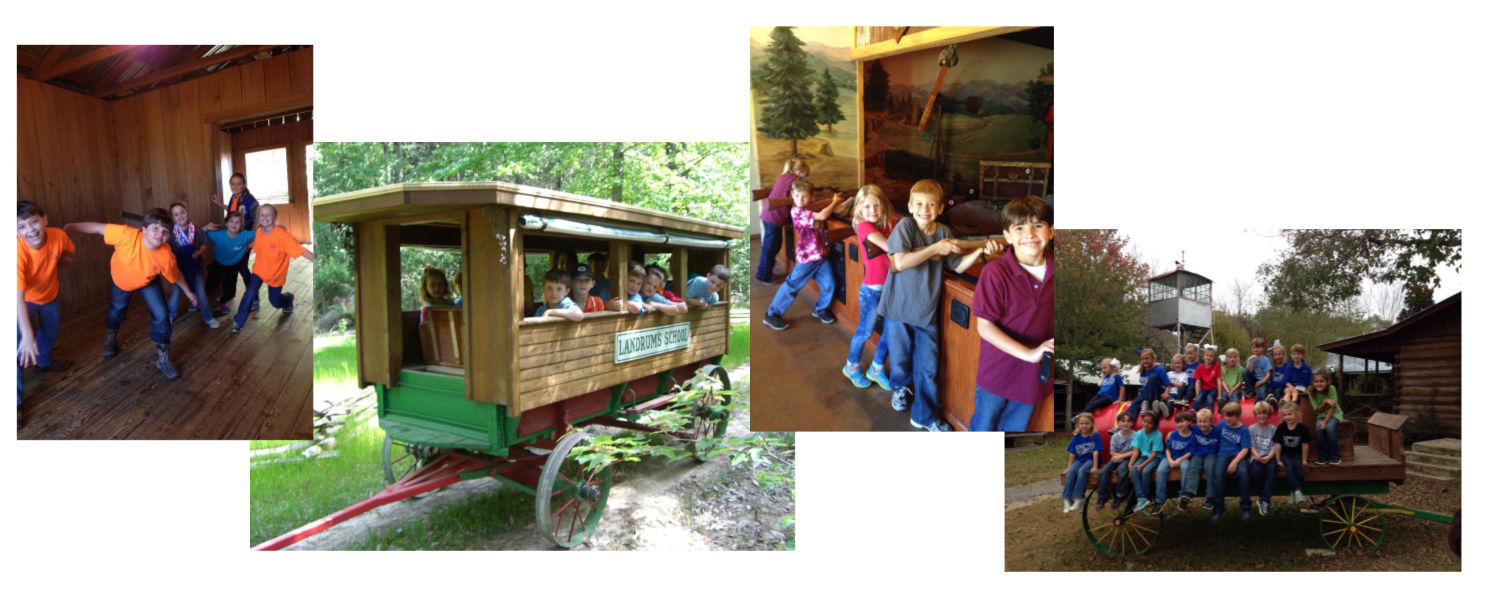 ADMISSION INFO

Principal, Class Teacher, Assistant Teacher, & Bus Driver: FREE Admission

Optional Fees:
• Gem Mine: $5.00/bag
• Laser Shooting Gallery: $1.00/25 shots
• Smokehouse Lunch Available for SCHEDULED Groups of 30 or More. Choice of Hamburger, BBQ Sandwich, or Hot Dog with Side of Chips + Cookie, Plus a Drink.

$

10.00